Wedding event marquees are becoming increasingly popular for couples who want to have a unique and memorable wedding day. A marquee offers a blank canvas to create a wedding that reflects the couple's personality and style. It also provides flexibility in terms of size and location, allowing you to have your dream wedding in a location that may not have been possible with a traditional wedding venue. In this article, we'll explore the different uses of wedding marquees, how to buy or rent one, and the costs associated with them.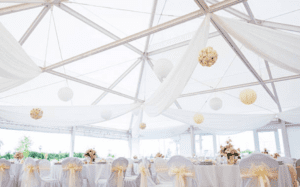 Wedding Event Marquee Uses & Buy
Wedding marquees can be used for various parts of the wedding day, including the ceremony, wedding breakfast, and reception. You can also have different marquees for each part of the day or have one large marquee for everything. It's important to consider your guest list when choosing the size of your marquee, as you'll need to ensure there is enough space for everyone. Wedding event marquees are available to buy or rent, depending on your budget and preferences.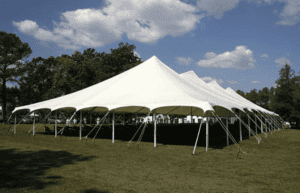 For The Wedding Ceremony
A Wedding Event Marquee can provide a beautiful setting for your ceremony. You can decorate it to match your wedding theme and create an intimate atmosphere for you and your guests. You can also choose to have the sides of the marquee open, allowing for an outdoor feel while still providing shelter from any weather.
For The Wedding Breakfast
The wedding breakfast is a special part of the day where you can sit down with your guests and enjoy a meal together. A marquee provides a stunning backdrop for this, and you can choose to have long banquet tables or round tables with centerpieces. You can also have a dance floor and a band or DJ to provide entertainment.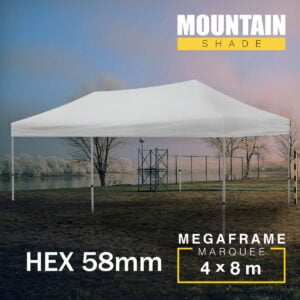 For The Wedding Reception
The wedding reception is the perfect opportunity to celebrate with your guests and dance the night away. A marquee provides an excellent space for this, with plenty of room for a dance floor, bar, and seating areas. You can choose to have different lighting options to create the perfect ambiance for your celebration.
Wedding Event Marquee Prices
The cost of a Wedding Event Marquee will depend on various factors, such as the size of the marquee, location, and any additional features you require. As a general guide, a basic marquee for a small wedding can cost around $1,500 to $2,500. A larger marquee with more features, such as heating, flooring, and lighting, can cost anywhere from $5,000 to $10,000 or more. It's essential to get a quote from a reputable marquee company and discuss any additional costs, such as delivery and setup fees.
In conclusion, a Wedding Event Marquee or Big Party tents can provide a unique and memorable setting for your special day. It offers flexibility in terms of size and location and provides a blank canvas for you to create a wedding that reflects your personality and style. When considering a wedding marquee, it's essential to consider the different uses for it and choose a size that accommodates your guest list. With careful planning and consideration, a Wedding Event Marquee gazebo can provide the perfect setting for your dream wedding.
We offer High-Quality Branded Marquee for sale Australia-Wide and Plain Marquee for Sale Australia. When it's your business supporting your livelihood, you need to make it the best it can be.
Leading Printed Marquee Heavy Duty tents, Printed Branded Marquee Supplier. Pick up the phone and call us on 1300 320 540 to talk to one of our helpful and enthusiastic staff if you are in Sydney, Melbourne, Brisbane, Adelaide, Canberra, Perth, Hobart or anywhere else in Australia!